Mar 10, 2020
Sharjah Islamic Bank to strengthen cooperation with SAEED Sharjah Investors Services Centre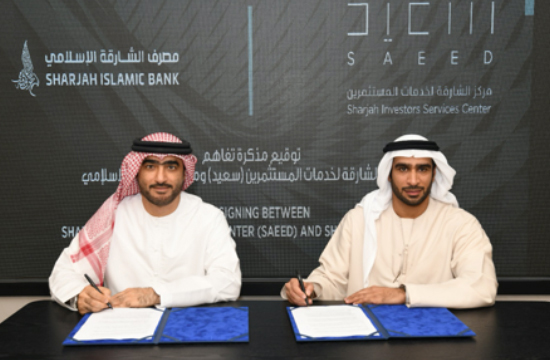 establish a business relationship, based on goodwill and cooperation. The purpose of this collaboration is to achieve the UAE vision 2021 and to create a competitive, innovative and knowledge-based economy. This partnership will expedite the process of opening accounts for owners of small and medium-sized enterprises under the same roof.
The MoU signed by Mohamed Juma Al Musharrkh, CEO of the Sharjah FDI Office (Invest in Sharjah) And Member of Board of Director of Sharjah Investors Services Center (SAEED), and Jassim Al Baloushi, head of organizational excellence at SIB, in the presence of a number of officials from both sides, at SAEED Sharjah Investor Services Centre in Al Qasba.
Mohamed Al Musharrkh said: "The MOU between SIB and (SAEED) SISC reflects the keenness of the emirate's institutions to create a nurturing environment for local and foreign business and investment. He highlighted that the main challenge facing investors in various markets around the world relates to the absence of banking policies, financial products and programs, which give them safety, saves them time and helps them establish sustainable and long-term investments. These include providing accounts opening facility and diversity, financing policies, guarantees, and others which makes this memorandum a positive step in trying to build a business friendly environment, for the investor and the local business owner".
He added:" Investment opportunities in Sharjah are continuously growing, and the future of business in the emirate holds promise and growth courtesy the policies and good practices represented by entrepreneurships, incubators, and support and assistance centers for investors, in addition to the diversity and balance between the various sectors".
Al Baloushi said, "We feel extremely honored to work alongside the Sharjah Investor Services Center with the aim of attracting more investments to the emirate, by taking advantage of everything Sharjah has to offer, thus enabling companies and business sectors to establish their business in the emirate helping them move towards various markets. "
He added: "This cooperation between SIB and the (SAEED) SISC aligns with the visions of His Highness Sheikh Dr Sultan bin Muhammad Al Qasimi, Member of the Supreme Council and Ruler of Sharjah in the financial and investment fields, and by signing this Memorandum of Understanding (MOU), we looking forward to exchanging experiences with (SAEED) SISC in a manner that enhances the visibility of Sharjah on the regional and global levels."
"We also look forward to enhance banking services provided to investors by expediting the opening of accounts for owners of small and medium-sized enterprises and companies, and providing the necessary financing and banking facilities for them, which contributes to the effective development of productive capacities and enhancing the competitiveness of Sharjah in the field of investment in particular and business in general."
According to terms stated in the MoU, Sharjah Islamic Bank will provide quick and effective account opening services to owners of small and medium enterprises, and companies located in the headquarters of (SAEED) Center, under one roof.
Sharjah Islamic Bank has succeeded in providing a variety of products and services that align with the Islamic law that address the requirements of individual customers, companies, and institutions, as well as investment services that contribute to the development and expansion of various business sectors, through the adoption of a strategic vision and follow clear prudent policies in both risk management and expenditure control in all the bank's operations.
(SAEED) Center works to provide qualitative services to facilitate the establishment of business and allows for faster and cheaper transactions for investors under one roof, for any government related investment services in Sharjah, taking no more than 60 minutes to deliver the same.
The center is part of the Sharjah Investment and Development Authority's portfolio (Shurooq) and operates in a strategic partnership with "Injazat Services Group," and in cooperation with Sharjah FDI Office (invest in Sharjah).